Memories
Please CLICK ON any images to enlarge
My story began in Chile and continued in Scotland. I, therefore, decided to begin my story in Chile by remembering the places and the people that I remember most: The barrio, the guitar factory where I work before the coup, religion ( I was then a catholic boy)
All these things that shaped my character and my political conviction to support in 1970, a socialist government led by Salvador Allende. But, a bloody coup d' etat in 1973 cut short our dreams for all of us workers. I find myself first under a hard dictatorship, then in Peru, then in England and from there in Scotland.
There is so much to tell, so much to remember, so much to feel sad and happy about, so many feelings and experiences accumulated during all these years that I encouraged myself to write, to write and to write.
How to forget what medicine our mothers used to gave us when we were a child and had a headache.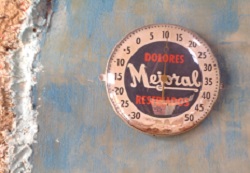 During the dictatorship, with almost fascist overtones, there was a state policy to make Chileans to ignore and forget the incredible atrocities which had taken place in their for 17 long and painful years after the coup. This policy of oblivion continued after 1990 with the Concertacion goverments: the political coalition that came to power after the departure of the dictator Augusto Pinochet. This policy of oblivion still continues today in the year 2018.
Governments who had been in power in Chile decided that the period of the Dictatorship will have to be remembered in the study books of school children, not as a military dictatorship, but as a Military Government. Like it or not, Chile lived for 17 painful year a bloody dictatorship with fascist overtones and million of Chileans had to paid for it. I had friends who were killed for combating he dictatorship.
How to forget the typical pavement we used to walk in the streets of Santiago, Chile


I am in here as a 'wee' boy and with
my people at a funeral. a regular ocurrence in my days in Chile
Some of my friend of my barrio and our Peruvian friend Victor Hugo whose mother after the coup, invited me to go to Peru.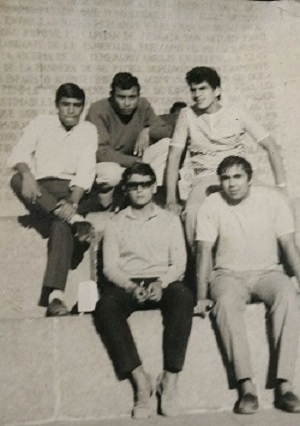 Below Chilean Buses of the 60s