The United Nations High Commissioner For Refugees ( UNHCR) And The Scottish Refugee Council (SRC)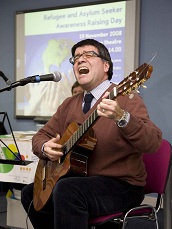 ---
The year, 2011, marked the 60th anniversary of the 1951 United Nation's Refugee Convention. To mark this event, the Scottish Refugee Council (SRC) kindly asked me to be involved in their activities organized jointly with the United Nations High Commissioner for Refugee (UNHCR).  As a result, I found myself being the subject of a photographic exhibition and subsequently involved in a series of activities dealing with Refugee Week both in Scotland and England. I was happy to help.
Events in Glasgow
The United Nations High Commissioner for Refugee (UNHCR) commissioned Magnum Photos to photograph six refugees across Britain. I was one of them. I represented those who came to Britain in the 1970s. These photographs were displayed in Glasgow and London during Refugee Week 2011 (June 20-26). Ian Berry was our photographer and he was nice and helpful. The Magnum exhibition opened in Glasgow on the 2nd of June at the Trongate 103 gallery. Among the many people invited to the opening were representatives of the UNHCR, members of the Scottish Refugee Council, its Chief Executive John Wilkes and Dr. Akong Tulku Rinpoche - a Tibetan monk who had also taken part in the photographic exhibition.
The Scottish Refugee Council, an organization that did not exist when the Chilean refugee began to arrive in Scotland in the 1970s, also produced a short documentary with me and two other refugees living in Scotland: Henry Wuga from Germany and Patience Tsungu from Zimbabwe. In this documentary, we were given the opportunity to talk about our experiences and it was showed as part of an exhibition called 'refugee Stories' at the Kelvingrove  Art Gallery in Glasgow. The exhibition consisted of the documentary, newspaper articles, photographs and objects of sentimental value for us. I presented a photograph, a charango (a musical instrument from Bolivia) and an old tin box marked 'Galletas McKay' (McKay Biscuits). This last item belonged to my mother and it was a reminder to me that some Scottish emigration to Chile had taken place in the past. The charango represented the times of the socialist Government lead by President Salvador Allende and that of Augusto Pinochet who banned it because, in his view, it had close links with the cultural and political revolution which took place in Chile during the Allende period. I learned to play this instrument in Scotland and it has always helped me to write songs and to do cultural work.
The SRC also organized for us; an interview for an article in the Glasgow Daily Record to help with the promotion of the Kelvingrove exhibition. I was happy with the article. The Daily Record had already written another good article on Chilean refugees in Scotland in Dec. 1975. The Guardian on line also took an interest in the story.

On Tuesday the 21st of June,I was at the studio of the BBC, Radio Scotland in Glasgow to take part in the programme Global Gathering with the lovely Mary Ann Kennedy. Mary asked me to say a few words about what had happened in Chile on the 11th of September of 1973 (the date Pinochet's bloody coup) and my own involvement in the celebration of the 60th anniversary of the 1951 refugee's convention. Mary also asked me to play two songs of mine.
Click on the imagen below to hear the interview and my two songs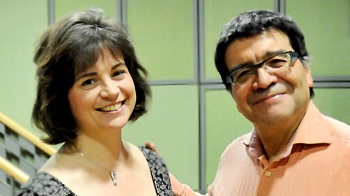 Events in Edinburgh
I was invited by Michelle Lowe, Development Manager of the Refugee Survival Trust to join them for their own celebration for the right to asylum. I said a few words; I recited a poem and then played two pieces of music on charango and guitar with my fellow Chilean,  the classical guitarist Galo Ceron. This lovely event was held at the Melting Pot in Edinburgh. Some Refugee Survival Trust (RST) supporters were there along with John Wilkes, Chief Executive of the SRC, and Eileen Baxendale (chair of RST) It was a well attended meeting with food and drinks and what I said and sung was well received by the audience.
I also received an invitation to take part in 'Lines of Flight. A poetic event organized by David Farrier at the Scottish Poetry Library. David is a Lecturer in Modern and Contemporary English Literature at Edinburgh University.  I presented, in Spanish and English, my work: 'From where we, the refugees have come' which is a series of poems dealing with the dramatic story of million of people who for many reasons have been forced to leave their countries in dramatic circumstances.  It was a real pleasure to have been invited to perform my poetry along with Iyad Hayatleh, a poet from Palestine and Qusay Hasain another poet from Iraq.
I was also invited to attend a lovely and large  reception at the Scottish Parliament.  There were many guests, among them the Lord Provost, Christina McKelvie MSP, people from refugee groups and Senior members of staff of the SRC. We were made very welcome by Christina and I had an opportunity to say a few words and invited to do a poem of mine and to sing a song. There were nice things to eat and good Chilean wine.
I also received an invitation for a reception from The Rt. Hon. Lord Wallace of Tankerness QC - Advocate General for Scotland. From my invitation, I read that it was in recognition of the 60th anniversary of the 1951 UNHCR Convention on Refugees and was hosted by the United Kingdom Border Agency. This Agency, I am told, is responsible for securing the UK border and controlling migration in the UK. They manage border control for the UK, enforcing immigration and customs regulations. They also consider applications for permission to enter or stay in the UK, and for citizenship and asylum.
There were plenty of good teas, nice cakes and biscuits. Lord Wallace did a short speech and I was not impressed by it. At one point he referred about the Scotts emigrating to the United States, Canada, Australia, and New Zealand. I had to remind him that for some reason in Scotland people tended to forget that many Scots had immigrated to Latin America too: Chile Argentina Uruguay and other areas. At the gathering I saw people from the SRC and I met my Chilean friend Oscar Mendoza who told me he had retired from work.
Meeting, 'for tea', with the Home Secretary Theresa May.
Another of the highlights of my involvement in this year's SRC and UNHRC activities was a meeting 'for tea' in London with the Home  Office Secretary Theresa May. I was there along with Dr. Akong Tulku Rinpoche, Gervais Kouloungou (from Congo), his daughter Gervelie and the UNHCR's representative in Britain Roland Schilling. The Home Office covered the story and so was the Government.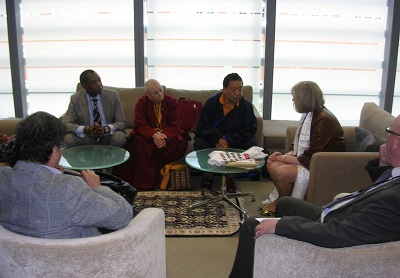 I was surprised to have been chosen, among thousands of refugees in Britain, for this special occasion and what a responsibility it was! What have I done! Perhaps I was one of those who fulfilled the basic criteria acceptable in today's Britain for any refugee coming to this country: to learn the English language, integrate into British society, good interaction with British nationals, in my case, I have done my best!
The UNHCR accepted happily the initiative taken by the Home Secretary to invite some of us to meet her for a chat around a cup of tea. Before going to London, however, I had to convince my son that it was worthwhile meeting the Home Secretary. She belonged to the Tory Party that provided a great deal of support to the bloody Pinochet's regime when Mrs. Thatcher was in power. I accepted the idea in my mind that perhaps not all in the Tory Party had been pleased with the atrocities committed by the dictator in our country and that perhaps the elegant woman I was going to meet, was not in the same political vain of Mrs. Thatcher and Norman Lamont who, after all and along with others in the Tory Party, vigorously had argued against the detention of Pinochet in London in 1998. Thatcher was close to Pinochet because the dictator had 'helped Britain' during the conflict with Argentina for the Falkland Islands in 1982. 
In spite of all of these I went to London without any pre-conceptions about Mrs. May political views and because I saw in this meeting something valuable and important for everyone involved. On my part, all I wanted was to show my support to the UNHCR for their excellent work helping millions of refugee people around the world which included thousands of Chileans. Not many of them, in fact, knows the wonderful job made by the UNHCR in our country during the Pinochet' s dictatorship.
A PR exercise?
The meeting was undoubtedly a PR exercise for all of us and a cheap one at that for the Home Office minister – a cup of tea and about half hour of Mrs. May's time! The lack of even a few biscuits reminded me of this and neatly reflects the government's current drive towards an "age of austerity". For the UNHCR, however, it was a more expensive PR exercise. The organization had to pay me and Dr. Akong Tulku Rinpoche our travelling expenses. Both of us had to go to London from Scotland.
The role of the UNHCR's representative at the meeting was to accompany us and underline, with his presence, at government level, that the tough treatment of asylum seekers in Britain at the moment should be at least compensated properly by a proper understanding of the problems facing most countries in the world which cause people to seek asylum. Already in March 2007, The UNHCR had recommended that the Conservative Party should pay special attention to several areas in relation to refugees and asylum seekers: What I know, on my part, is the fact that some of the upheavals, creating refugees and asylum seekers around the world are in some cases caused by economic and military interventions of some western powers, like Britain. The Coup in Chile, on the 11th of September of 1973, came about as a direct result of the United State's Government openly interfering in our internal affairs during the 1970s. If 3000 Chileans came as refugees into this country; it was thanks to the nasty activities, in their country, of a very important British ally. It must be said that with the arrival of democracy in Chile in the 1990's, most Chileans returned home.
At the meeting, I began by thanking, Mr. Roland Schilling representing the UNHCR and Mrs. May representing the British Government, for all the help given to the three thousand Chileans refugees who had come to this country. I then managed to give The Home Secretary two copies of my poetry work and to tell her, in a reduced space of time, my own story covering the history of Chile from 1973 to 1990: seventeen years of constant human rights abuses against the Chilean people. 
Chilean history during the Pinochet regime was made up of concentrations camps, disappearances of people, killing of all sorts and the loss of freedom and democracy. Here, we encounter the story of Milton Friedman, an American economist, who, with the help of some Chilean economists and the repressive regime, managed to put forward some few economic ideas never tried before in the world bringing, as a result, years of economic chaos and devastation to the more vulnerable people in society. These ideas, brought to Chile by the so called 'Chicago Boys", were unopposed in our country as Trade Unions activities were suppressed as well as all political activities. The regime allowed a few businessmen to get extraordinary rich by buying cheaply state assets belonging to all the Chileans. The Milton Friedman market policies were also brought to Britain from Chile by the Thatcher's government (a good account about it can be found in a book called 'Pinochet in Picadilly' by Andy Beckett). These Chicago boys' ideas brought devastation and depravation to millions of people in Britain. I have just to think about the Miner's Strike in Britain during the 1980s.
Finally, I was also able to tell the minister that the refugee people, far from being a liability to this country,  in fact  represented an important asset and this had to be recognized at government level when they have to decide, with statistics in hand, about the fate of people currently seeking asylum in this country. As far as I can remember nothing was said, by Mrs. May about concerns of negative treatment of asylum seekers and refugees in recent years in the UK. Perhaps it was not the proper forum for the Home Secretary to say a few words about these apprehensions. She seemed, however, happy with our meeting when she spoke to the press.
'It has been a privilege to meet these inspiring individuals and hear about the contribution they make to life in the UK. Refugees like those I have met today have played a vital part in shaping Britain in the last sixty years,'
The meeting on the whole went very well. The tea was good, The Home Secretary listened carefully what I had to say. She had a real interest in young Gervelie story. Some journalists were with us to cover the story. Some men in suits were also present at the meeting.  Some photographers were also there, however, they all for some reason failed to take a proper and nice picture of us with Mrs. May. I managed to take a couple of pictures before and during our meeting with Mrs. May.
On the whole it was a lovely experience for me and happy because both the the Scottish Refugee Council and the United Nations High Commissioner for Refugee (UNHCR) were highly appreciative of my involvement in this years Refugee Week.
See below